Alt Text – Facilitators Abdulla and Sonia, standing with Anjam from Inclusive Aotearoa at the Waikato hui. 
What:
The Inclusive Faith Project is a co-designed strategy with the objective of full participation of disabled persons in the life and practice of their faith communities for mutual benefit of all.
How:
Conversations, including a series of regional gatherings have created kōrero between disabled people of faith and faith influencers & leaders so obstacles can be identified and overcome.
Deliverables:
Practical outcomes of this initiative will include resources and further engagement wherever a disabled person of faith lives. The implementation phases, over a couple of years, will expand the conversation and equip faith communities for real systemic change.
Partners:
The NZ Human Rights Commission, Inclusive Aotearoa Collective, NZ's Religious Diversity Centre, Yes Disability, Whaikaha - Ministry of Disabled People and others are partnering nationally and locally in this multi-sector multi-faith initiative.
Why:
Empathy, respect, justice, social enrichment and cohesion are worth the effort. Our many and diverse abilities and lived experiences are to be recognised and celebrated.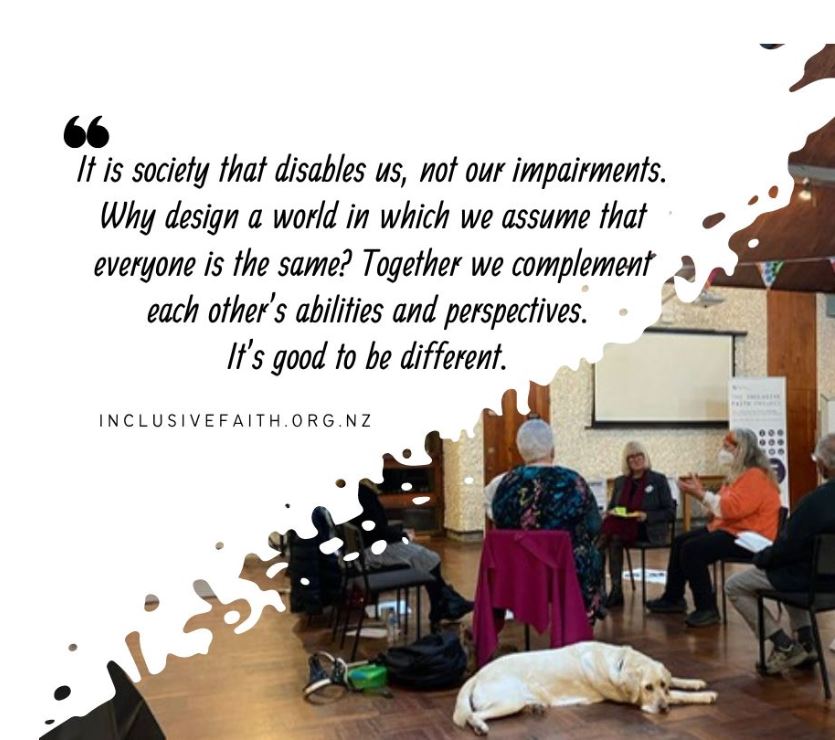 Alt. Text – A group of people sitting in a circle during a co-design hui, with a service dog patiently waiting nearby.
Text says, "It is society that disables us, not our impairments. Why design a world in which we assume that everyone is the same? Together we complement each other's perspectives. It's good to be different." 
Listen to our latest PODCAST
Audio Script available on request.